Illustration
Art in Wellness | Art Collaboration | Wellness Industry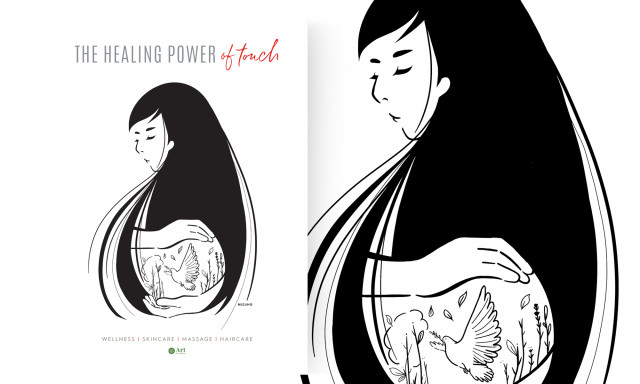 --
|| Overview ||
I was selected to be a featured artist for the Art in Wellness program to create original art on the theme of "Healing Power of Touch" to help the SPA, Salon, and wellness industries to promote the positive image of touch to their clients and communities. Later, the art was also exhibited at the United Nations and the World Health Organization on October 20, 2020, at Burtigny Switzerland.
|| Healing and Nurturing ||
The art expresses the balance of well-being and wellness, as healing and nurturing the life around us.
-
Art in Wellness to download the art work
Created Specifically to Help the Spa, Salon and Wellness Industry Communicate to Your Clients and Community The Healing Power of Touch
DAYSPA Magazine Article
Art Collaborative Showcases the Power of Touch in Spa Initiative
American Spa Magazine Article
The Art in Wellness Collaborative Announces International Contest Winners
-
Role: Artist
Task: Create original art in a theme of Healing Power of Touch
Goal: Help the Spa, Salon, and Wellness industry to communicate their clients and community the healing power of touch
Timeline: Submission ended May 21, 2020
Exhibit: October 20, 2020
Client: Art in Wellness program, The United Nation, The World Health Organization
--

/art-in-wellness-illustration/Healing-and-Nurturing_cover2.jpg